Googled your company lately? Probably not. When do you, you're searching for a "branded keyphrase."
Marketers and SEOs usually ignore these phrases. Why? Because they assume that they rank #1 and there's nothing to gain. Or they just never look up what branded phrases their audience is using.
But it's crazy to ignore the people who are looking for you.
Branded keyphrases are the world's fastest win for SEO.
And they're a secret weapon for content strategists.
These keyphrases provide powerful insights. In seconds you can:
Learn what your audience knows about you
Find reputation issues
Discover your top competitors
Uncover gaps in your content
If someone else is outranking you for your own topics, you should know and you should beat them. And it's easy for you to win for these queries. They are about you.
So let's find those phrases, optimize and get the maximum value from our own branded queries.
What's a branded keyphrase?
A branded keyphrase is a search term that includes the name of a brand, a variation of a brand name or the name of a specific product. Examples include "Apple iPhone," "Chicago Cubs parking" and "Orbit Media blog."
They're often called navigational queries because people who search for them are usually just trying to get to a specific website or webpage. (See the chart at the end of this post for a breakdown the three types of keyphrases)
These phrases have ultra-high click through rates. 50% or more of people who search for brands click on the top ranking page. (It's usually the brand, but not always) They also attract the most qualified visitors. The searcher are already brand-aware.
source: Advanced Web Rankings
How do I find my branded keyphrases?
They are easy to find. Here are three sources of branded keyphrases.
Note: This research works best for bigger brands. Smaller brands may have trouble finding insights, but the research is so fast, everyone should do it.
Google suggest and autocomplete
Google your company. Just search for your business name without hitting enter and you may see a bunch of them, suggested by Google.
Next, after your company name, type a, b, c and so on. You'll see more phrases suggested by Google. They're suggested because people have searched for them before.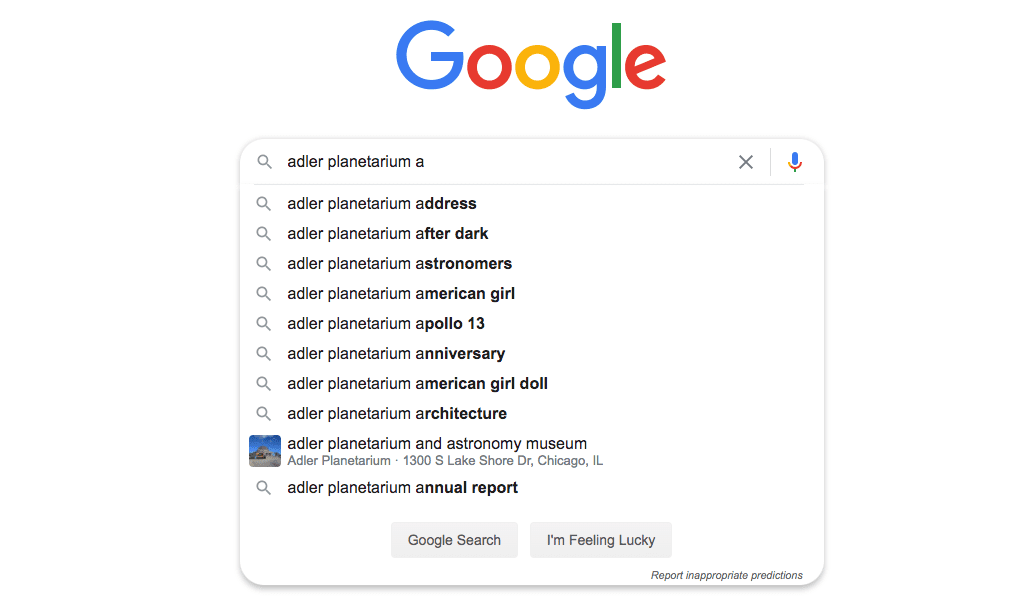 To find them all at once, go to KeywordTool.io. It scrapes all of the suggested phrases out of Google and puts them all on one page as if you typed in the next letter of the alphabet 26 times.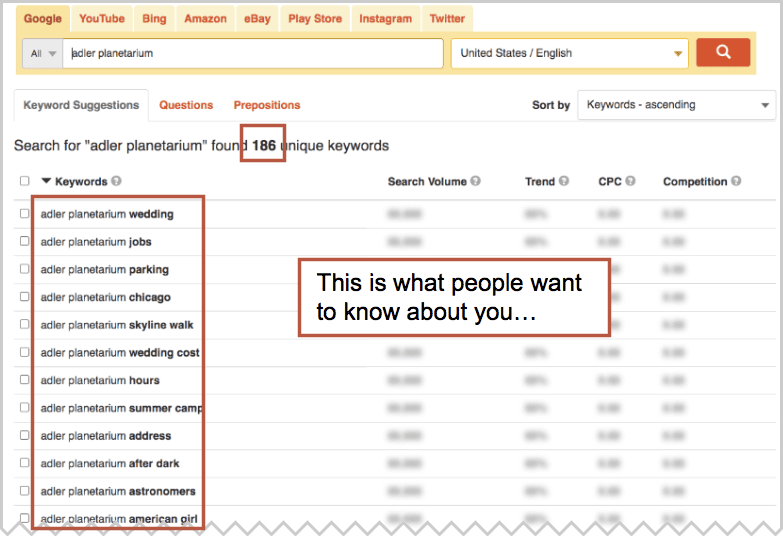 You can see suggestions from Google, as well as YouTube, Bing, Amazon, etc.
Related searches
Another source for branded keyphrases is the "Searches related to" queries at the bottom of the search results page. If you search for the brand, this will look a lot like the suggested phrases you've already found. But search for one of those suggested phrases and you'll get deeper insights.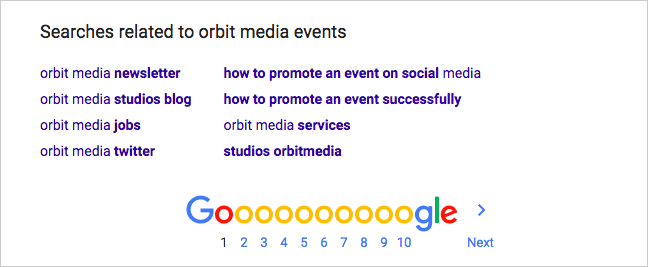 Your Queries report
There is a lot of keyword data in your Google Analytics, assuming you've connected Google Analytics and Google Search Console.
Go to the Acquisition > Search Console > Queries report and filter for the name of your brand. You'll see something like this: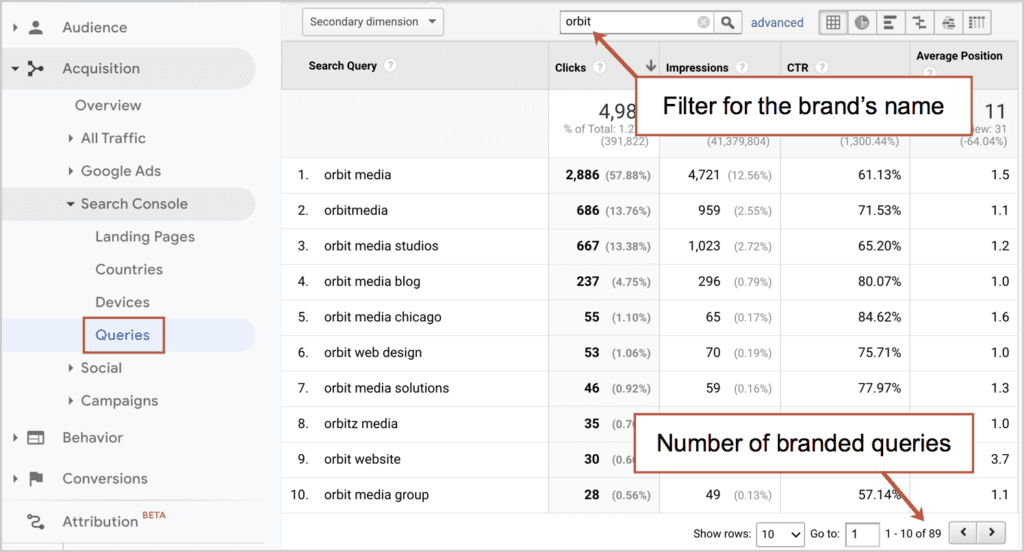 (Reports aren't showing up? Here's our Google Analytics Setup Instructions)
Now, optimize for these branded keywords
Now you know what people are looking for when they look for you. Next, let's go search for every one of those phrases.
Here are 11 things you may see when you search for your branded queries, along with the actions you can take to adapt your marketing.
1. Other sites ranking for your brand's topics
In the example above, I searched for "Adler Planetarium" which is an awesome space museum here in Chicago. The first phrase suggested by Google is "Adler Planetarium wedding" which shows that people want to get married there.
Let's go search for that phrase.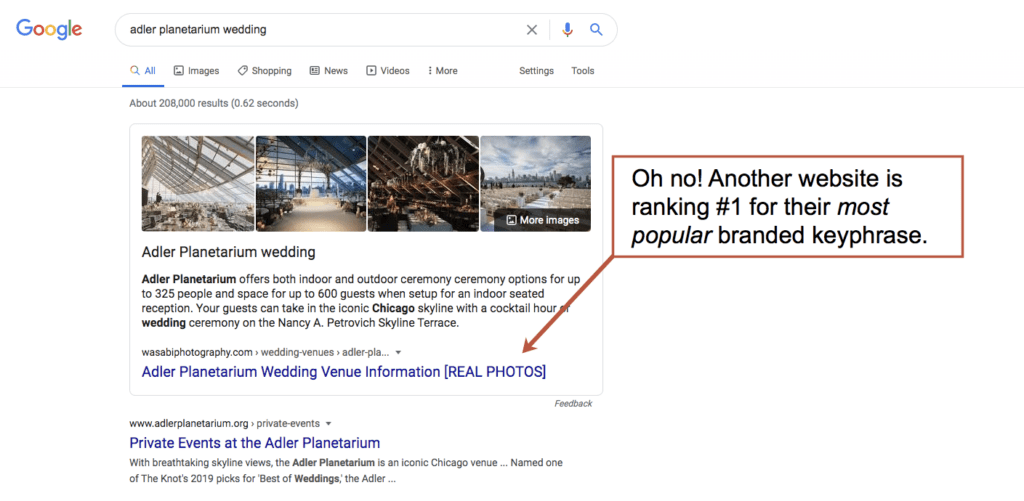 Bad news. Even though this is a very popular branded keyphrase (it's the first phrase suggested by Google) the brand itself doesn't rank #1 for the phrase. They are being outranked by a smaller site for their own name.
Why? This website doesn't have a page on the topic.
The Adler Planetarium has a page about "private events" but not "weddings." All they need to do is make a page on that topic. That's it. If they launch that page on Friday, they'll likely rank #1 by Monday morning.
2. Sitelinks
These appear as six links in the big search snippet for your brand's search ranking. They are traffic magnets. Once upon a time, SEOs had some control over what links appear here, but no more. So be it.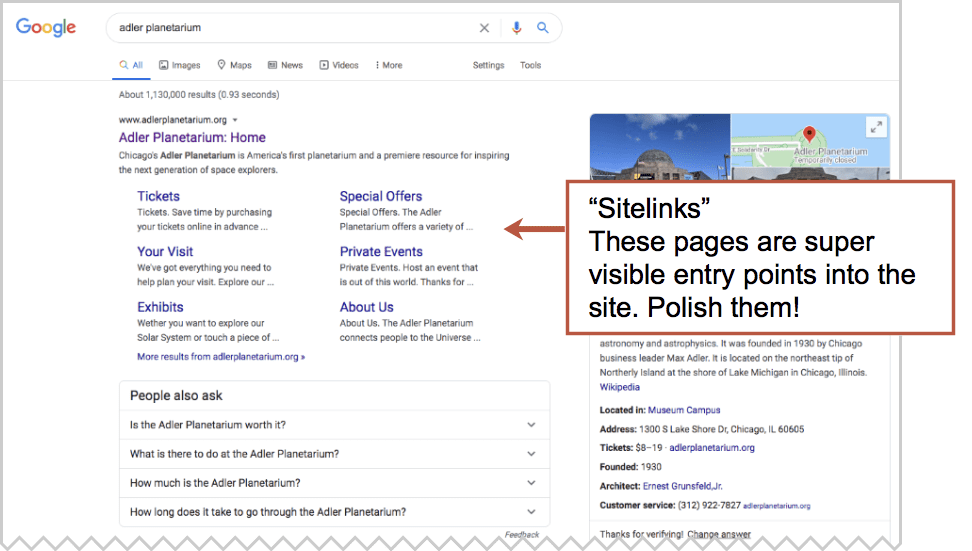 The pages behind these links have 10x the visibility of other pages on your site. Your job is to check each of these pages and make sure they are current and compelling. Add detail, answers, testimonials, images, statistics, calls to action and anything else that makes them a better landing page.
3. The "Knowledge Panel" for your brand
To the right of your snippet, you'll likely see a knowledge panel. This handles a lot of the simpler branded queries such as "[brand] + hours" "[brand] + address" "[brand] + location."
Many of these searches are likely done on a mobile device (possibly even using voice search) but if the search is on a desktop, it'll look something like this: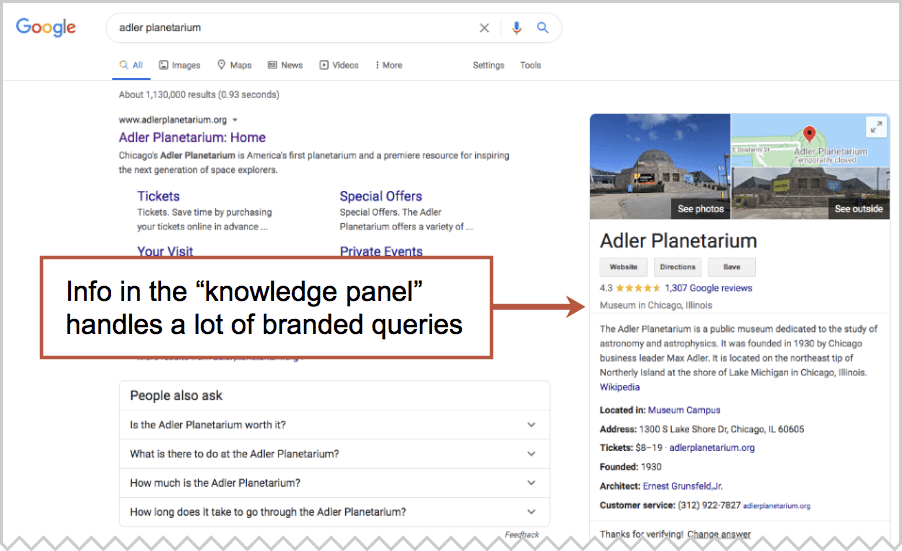 Google is very good at quickly showing basic brand info and answers. This is what the knowledge panel is all about. Your job is to make sure it's accurate and complete. In doing so, you're optimizing for lots of branded queries.
Log into your Google My Business page and fill it with as much information as you can. Start by making sure you're using the correct business category. Then upload some great photos. Add your business hours and everything else on the local SEO checklist.
4. Reviews and reputation issues
If there are reputation issues for your brand, they'll likely jump off the search results page. It may be filled with rich snippets showing star reviews
B2C review sites: Yelp, Angie's List, Facebook and BBB
B2C review sites: Clutch, G2 and Capterra
Employment sites: GlassDoor and Indeed
These star reviews are visible even if the searcher doesn't click. So they have a strong impact on brand perception and traffic. Searches see the stars and judge you instantly.
Google reviews will appear in the knowledge panel. You may have a few 5-star reviews there and think you're doing well. Maybe not. Until you have 20+ strong reviews your brand has a reputation risk. One bad review will shove your average down fast.
Make it a priority to some better reviews. Hopefully, you're good at what you do and you have fans who are willing to say so in a positive review. Reach out.
You might be able to push down those review sites by making a reviews page of your own. Then add schema tags to your reviews page to get the stars to show. Ask your developer for details.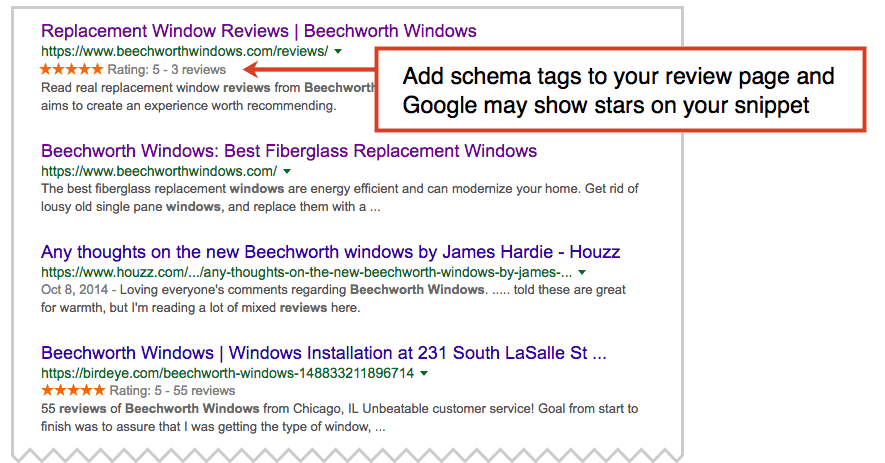 Another way to push down review sites? Create profiles on more social media sites. These often outrank review websites and push down those ugly stars (and that news story about that horrible lawsuit).
That brings us to social, which is another common character in branded keyword search results pages.
5. Social media channels
Social media accounts may appear in search results or as an icon in your knowledge panel. This is generally good, even if you see social media accounts that are dormant.
If you see a social media account and you're active on that channel, great!
If you see a social media account and you're not actually engaged there, no problem.
You don't have to be active on a social media channel to have a presence there. 
Just create your profile and then create one post. The post can let the visitor know that you don't use that network. Suggest that they find you on another social network or on your website.
Here's what our Twitter account would look like if we didn't use Twitter.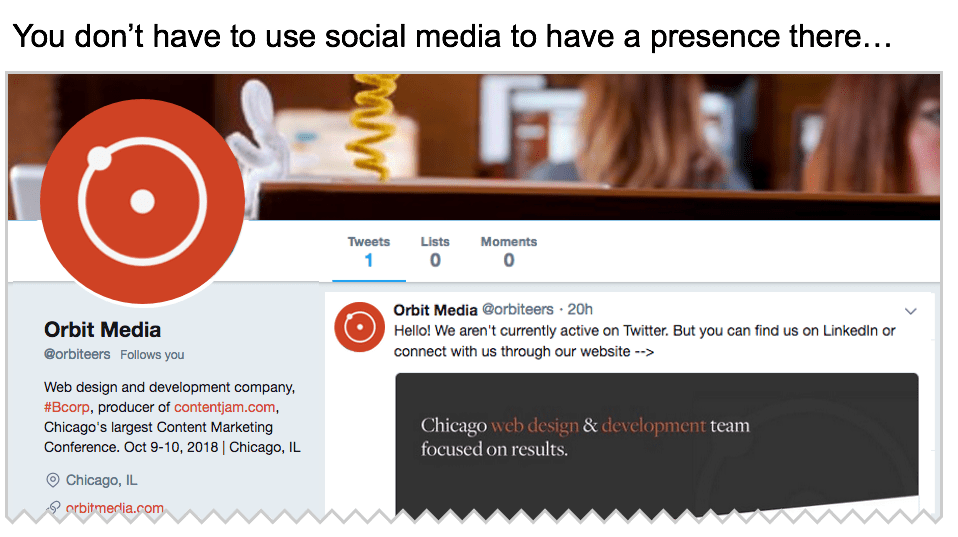 As we said earlier, just claiming social media accounts can help you manage your online reputation by pushing down negative search results (bad PR, low star reviews) for your branded keyphrases.
6. Questions and answers
Google may put a "People Also Ask" box, right into the search results page for your brand searches. If so, this is an amazing opportunity to see what people are asking about you. It's also a risk that other websites are better than you at answering questions about your brand.
Open each of the questions and see who Google trusts to provide the best answer. Look for opportunities to answer those questions in the content on your own website.
Better yet, ask then answer the questions in your own knowledge panel!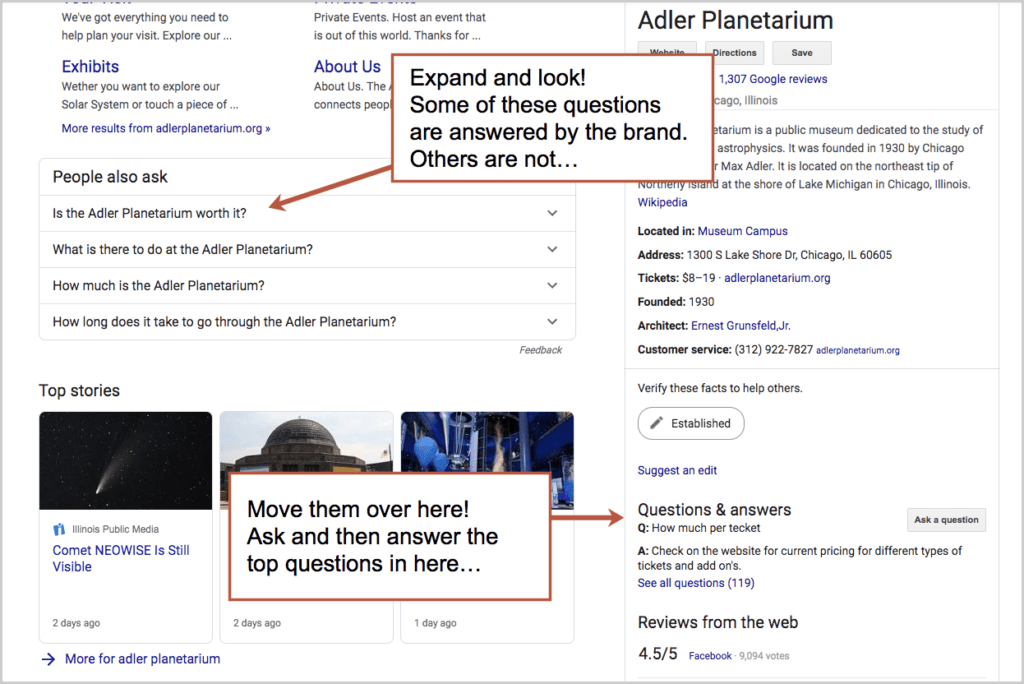 7. A search box above your sitelinks
See a search box above your sitelinks? This is called a "sitelinks search box."
Presumably, it's a courtesy to searchers. They can search your site right away. But it's also a play by Google to keep the user on their platform for another click.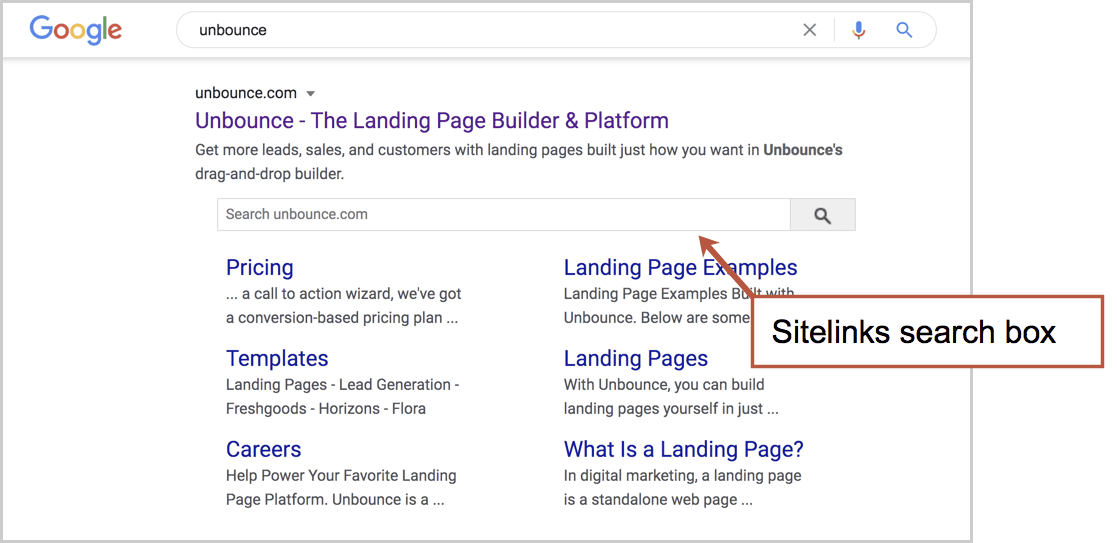 If you see a sitelinks search box for your brand, use it to search for something. What happens next? Are the search results on your site? Or are you still on Google?
If you're still on Google, they've successfully held on to your potential visitor. But maybe you'd like that visitor to land on your site, seeing those search results of your search tool on your domain instead.
To make that happen, add this script to the <head> of your homepage.
---
<script type="application/ld+json">
"@context": "https://schema.org",
"@type": "WebSite",
"url": "https://www.example.com/",
"potentialAction":
"@type": "SearchAction",
"target": "https://query.example.com/search?q=search_term_string",
"query-input": "required name=search_term_string"
</script>
---
If there's a sitelinks search box and you rather it not appear at all, you can prevent Google from showing it by simply adding this meta tag.
<meta name="google" content="nositelinkssearchbox" />
Easy peasy. You can read more about this on this Google Developers page.
8. Job boards
Keyphrases that include brand name plus "jobs" or "careers" will show search results with three things:
Job boards (Indeed, Career Builder, Monster, etc.)
The Google Jobs Box
Your own careers page
The first two are also filled with open opportunities for your competitors. Not good. The third one only appears if you have a Careers page on your site.
If you have a careers page, but you're being outranked by the job boards, take a close look at it. Is it optimized for the phrase they're searching for? Don't forget the SEO Basics!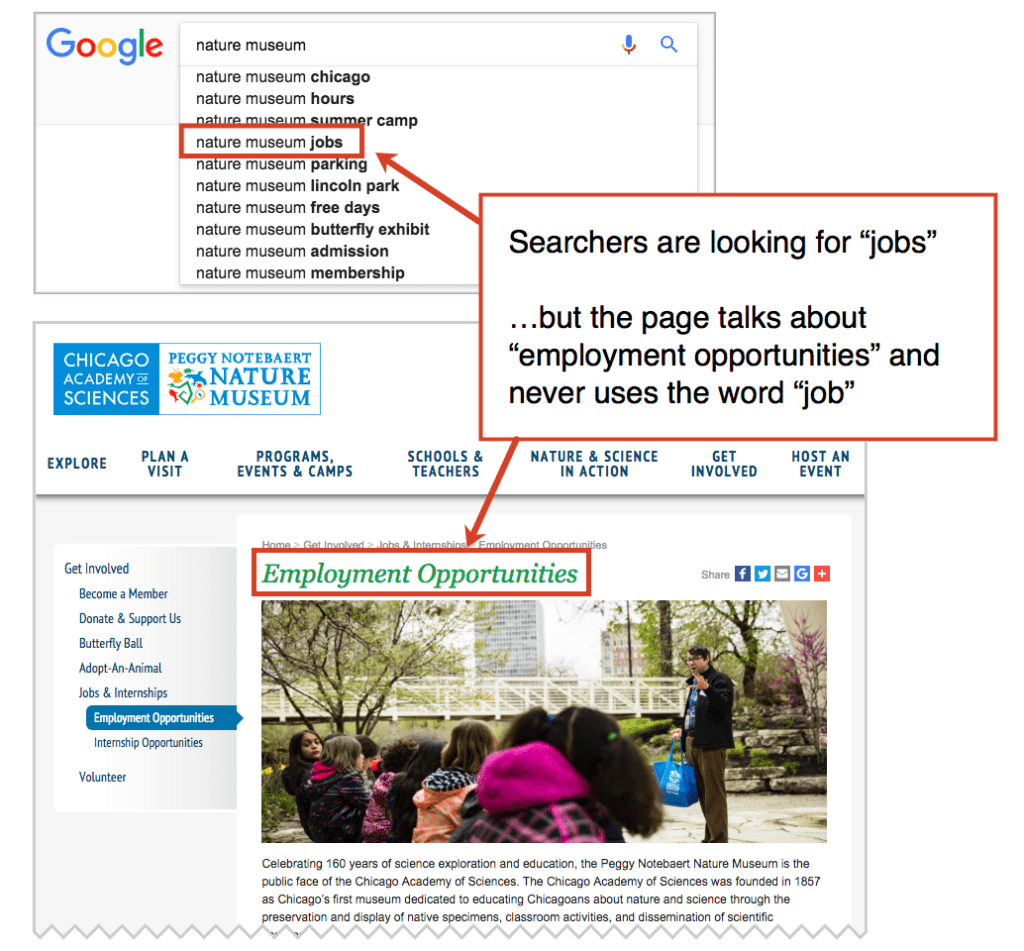 9. Competition
You might be surprised at how many other brands appear when people search for your brand. Google is happy to show all kinds of company besides your own, in ads at the top (competitors may bid on your brand name) and in your knowledge panel.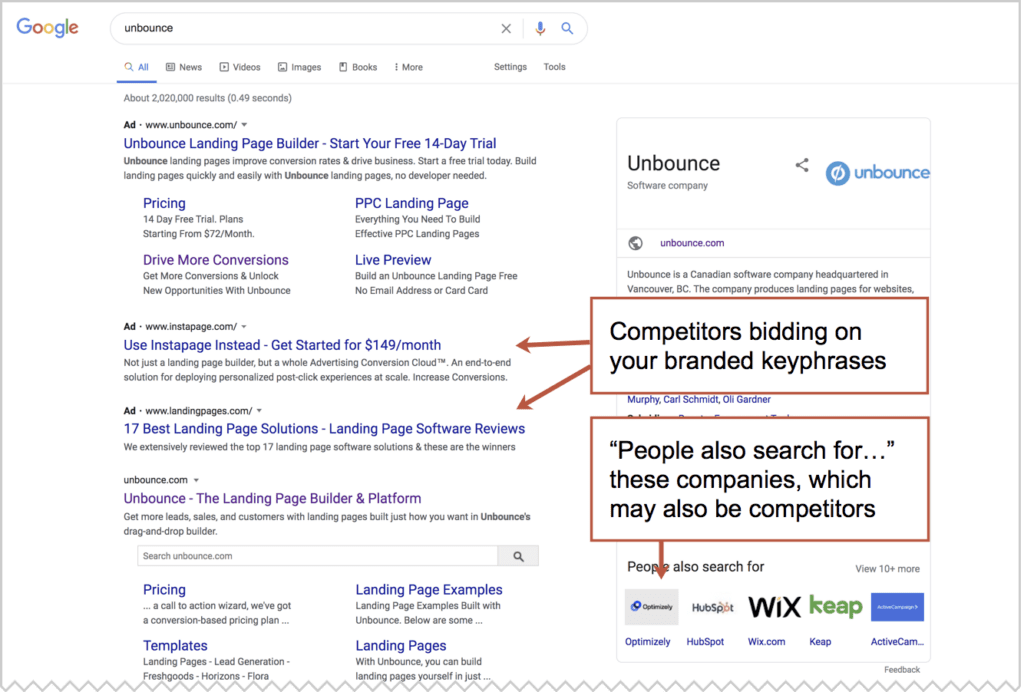 What to do if competitors are bidding on your brand's name?
Bid on your own brand and push their ads down (defense)
Bid on the names of their brands (counter attack)
Reach out, make friends and ask them to stop (declare truce)
Complain about Google on social media (attempt to change rules of engagement)
This last tactic was used by Jason Fried of Basecamp with huge PR results, but Google didn't seem to care.
10. Your products, for sale by other merchants
If you have an ecommerce site and you're not the exclusive source of your products, it's likely that retailers are buying ads on your product names. You might rank #1 organically, but the ads appear above you.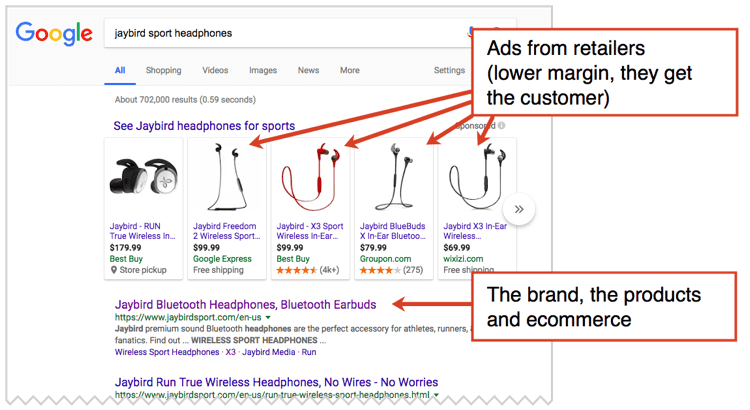 If they get the click, they'll get the sale. They get a cut of the profit and they get the customer data and chance for loyalty. Not good.
To better compete with these ads, you can add sales language to the title tag of the page. Is there a promotion, an offer, free shipping, etc? Compare these two examples.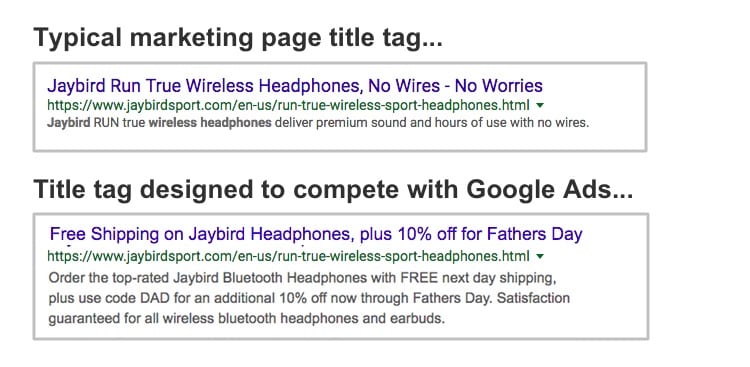 Which of these has a better chance of competing with the ads that appear just above it?
11. Promo Codes, discounts and coupons
Let's stay with the ecommerce topic for a minute longer.
If you've got a shopping cart and your shopping cart has an empty box labeled "promo code," then you've got a trigger telling your visitors to go look for a bargain.
Brand + promo code
Brand + coupon
Brand + discount code
Search for each of these. Is anyone outranking you? If yes, your job today is to optimize for these phrases and outrank Coupon Basement and BargainHub. (I made those up).
Just make a page and optimize it! It will likely rank #1 within a few days. Give it a title such as "All the Current, Official Promotion Codes for [Brand]" and welcome that visitor back from Google, right into your arms.
Of course, keep the page updated with all of the current promotions. If there are no current promotions, let the visitor know with a prominent message. And since most of these visitors will already have something in their cart, make the checkout easy to do from this page.
Note: this page does not have to appear in your navigation. It can live within your sitemap without cluttering your header.
12. Videos about you made by other companies
This one I'll never understand. Brands often forfeit the opportunity to support their customers with YouTube videos. Instead, they let everyone else provide customer service.
Here's an example. You own a Toyota Prius and the battery is dead. You need to jump start it, but when you open the hood, you don't see the battery in the usual spot, so you take out your phone and do a quick search using a branded keyword: "how to jump a prius"
You find dozens of helpful videos. Some of them have been viewed hundreds of thousands of times. But where is Toyota? Why aren't they here to help?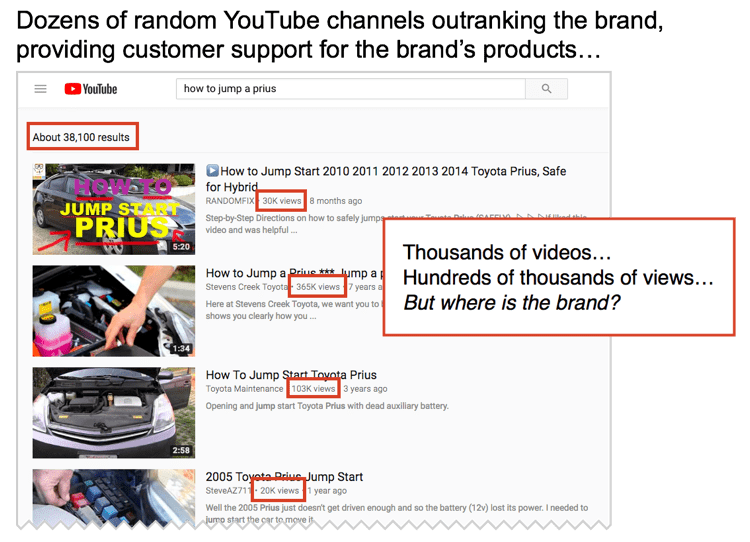 This happens partly because brands don't know that people are doing these branded product searches. But these phrases are very easy to find.
You can use the "YouTube" tab in KeywordTool.io and look for each of your products.
Or just search for your products on YouTube and see what's getting viewed!
See anything? Make the video, put it on YouTube and embed the YouTube video into your pages. This is exactly how we added YouTube to our content strategy.
13. Looking for an answer, a specific topic or anything else …and not finding you
If someone is looking for a phrase that includes your brand, you should have a page for it. That's the main takeaway of this article.
All those phrases you found when you put your brand into KeywordTool.io? Search for each of them. See what your audience sees? Can they quickly find what they're looking for? If not, make a page for it!
They search for "Cakes Are Fun gluten free"
…but the bakery site doesn't have a page for that
They search "Tempco Industries board of trustees"
…but the corporate site doesn't have a page for that
They search for "Taco Town parking"
…but the restaurant site doesn't have a page for that
You get the idea.
There are three types of keyphrases
"Search engine optimization is all about being discovered by ranking for non-branded keyphrases."
Why don't SEOs care about branded keyphrases? Because most companies already rank #1 for their brand name, so they think there is no improvement potential. Nothing to worry about.
But they're ignoring a huge opportunity. There are three types of keyphrases and the branded phrase is one of the big ones. Here's the breakdown: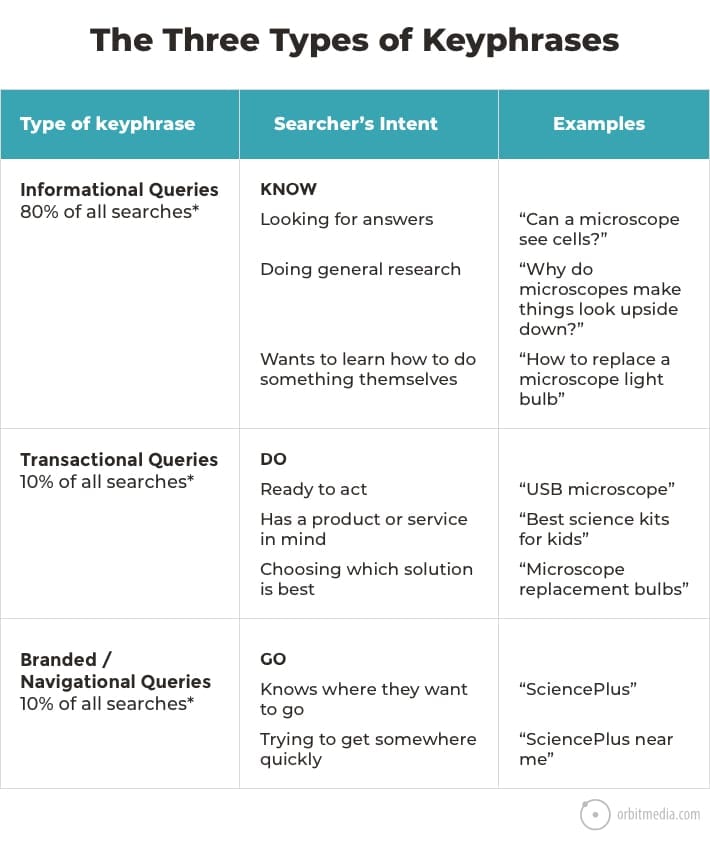 *Source: Jansen, Booth. Classifying Web Queries by Topic and User Intent
Welcome to your real homepage
Branded queries are the top keyphrases for most websites we review. Check your own Analytics. It's likely that these are the main phrases people are using to find your site.
The search results page for your brand might get more traffic than your homepage.
It's a stark reality of digital marketing.
This is why whenever someone asks me to review their website, I start by searching for their brand. Because Google is their real homepage.
So own your branded queries. Find them, search for them and improve the search results pages for each.